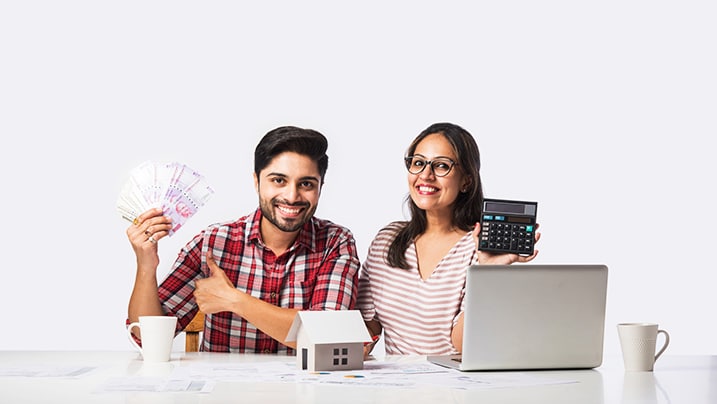 Here's how a joint home loan can be beneficial to your married life
If you are newly married or planning to get married soon, nothing can be more exciting than starting a new chapter in your life by moving into a home that you have purchased together. But did you know that there are many advantages to taking a joint home loan? From increased loan eligibility to greater tax benefits, there are many reasons why you should consider taking a home loan jointly with your spouse.
Here are some key benefits of taking a joint home loan:
1. Greater loan eligibility
One of the ways you can raise your home loan eligibility is by adding co-applicants who have independent sources of income. The lending bank or institution will consider their income while evaluating your repayment capacity and increasing the home loan amount you can apply for.
2. Lower interest rates for women
Banks and private lending institutions generally offer a special interest rate for women customers, which is few basis points lower than regular home loan rates. To benefit from the discounted rates, women have to be the sole or joint owner of the property and an applicant or co-applicant for the loan. With the lower interest rate, the repayment amount for the EMIs also goes down.
3. Reduction in stamp duty
Another significant advantage of going for a joint home loan with your spouse is the reduction in stamp duty. The government offers a lower stamp duty rate for women who buy property. Many states such as Delhi, UP, Haryana, etc., have lowered their stamp duty rates to encourage women to invest in property and empower themselves.
4. Tax relief advantage
Joint home loans also offer multiple taxation benefits. For instance, Section 80C of the Income Tax Act allows a couple to claim a tax deduction of up to Rs 1.5 lakh on the principal amount. Section 24 allows borrowers a tax dedication to a limit of Rs 2 lakh on the interest repayment. There is a significant advantage since both partners can claim the joint home loan tax benefit as individual taxpayers. In all, the couple can claim Rs 3 lakh under Section 80C and Rs 4 lakh under Section 24.
5. Ease of repayment
When you avail of a loan jointly, the burden of repayment can be shared with your co-applicant. So, the overall EMI burden is reduced for each individual. A couple contributing towards home loan repayment can pay higher EMIs over a shorter tenure. This lowers the interest liabilities significantly and helps one become debt-free faster.
6. Property succession
For single owners, property succession often becomes a laborious and time-consuming task in the event of the owner's death. However, in the case of joint ownership properties, the home can be easily transferred to the spouse.
Eligibility criteria for your spouse to be a co-applicant
For a spouse to be a co-applicant, they must draw a regular income as a salaried or self-employed individual. Both applicants must be Indian citizens. To apply jointly, you need to submit the requisite home loan documents together, along with KYC documents such as ID and address proof filed separately for each applicant.
Extending your partnership to the home loan application can benefit a couple in multiple ways. It allows them to fulfil their dreams together and share the responsibility of loan repayment, along with various taxations and stamp duty benefits. Use a home loan EMI calculator available on lender websites to select budget-friendly EMIs.
Disclaimer
The contents of this article/infographic/picture/video are meant solely for information purposes. The contents are generic in nature and for informational purposes only. It is not a substitute for specific advice in your own circumstances. The information is subject to updation, completion, revision, verification and amendment and the same may change materially. The information is not intended for distribution or use by any person in any jurisdiction where such distribution or use would be contrary to law or regulation or would subject IDFC FIRST Bank or its affiliates to any licensing or registration requirements. IDFC FIRST Bank shall not be responsible for any direct/indirect loss or liability incurred by the reader for taking any financial decisions based on the contents and information mentioned. Please consult your financial advisor before making any financial decision.